M.Planning (Urban and Regional Planning) - 2 years Full Time with a present intake of 20 seats. Download Brochure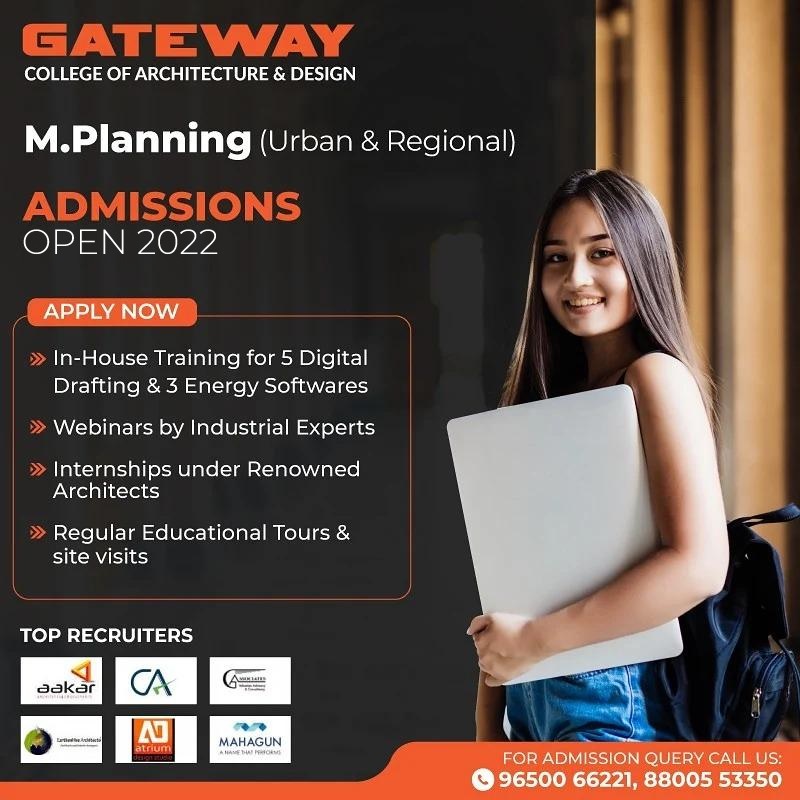 Gateway college of Architecture, Design and Planning is offering a Masters in Planning Programme 2021- 2023 (Masters in Urban and Regional Planning- Full time) The Institute is affiliated with Deenbandhu Chhotu Ram University of Science and Technology, Murthal (A state Govt. Technical University). The Program has a student intake of 20 seats at present and is approved by the Institute of Town Planners, India. Urban and Regional Planning is a collaborative effort through which socioeconomic and physical design plans can be made at a large scale. It deals with challenging issues related to the economic and physical growth of cities and social justice on one end and rapid urbanization and people's aspirations on the other. An interdisciplinary course, it offers an opportunity for students to make a difference to the way the world lives and shapes the future of our cities, towns, villages and communities by combining diverse arenas of Social Sciences, Planning, Architecture, Economics, Management etc.

Urban planning is a process which involves the design and development of land to be used for the people and the built environment. A highly specialised profession, it requires foresight and a vision to be able to plan for the decades ahead and deals with many technical, political and social decisions pertaining to land, air, water and infrastructure among others. Today, the entire world is a one big community and is grappling with concerns related to these issues, therefore, the seriousness and significance of the role played by urban planners can be well understood. The very nature of the work calls for teamwork and coming together of experts from varied fields to be able to give shape and direction to the communities and their habitats, both natural and built. From Governance and forming policies related to environment or climate change, to traffic management and mobilizing communities, Urban and Regional Planning deals with the future of not just the cities and communities but also the underlying human spirit therein.
Career Prospects
The career opportunities for Urban Planners range from those in Public and Private sector to Real estate, Academics and Research. The pace at which the cities are growing and developing calls for a large number of Urban Planners for addressing concerns ranging from Policy making to spatial Planning.

The career options for Urban Planners are many and the opportunities are strong. The transformation of our cities, towns and villages along with rapid growth in urbanisation and population calls for meaningful inputs from qualified Urban Planners who can make a difference and be a part of this journey.
Eligibility
Bachelor's degree in Civil Engineering, Architecture or Planning or a Master's degree in Economics, Sociology, Geography from any University / Institution in India or Abroad or its equivalent degree recognized by the Government of India with not less than 50% marks in the aggregate or equivalent grade of a recognized university or an examination recognized as equivalent thereto by this University (47.50% for SC/PH). The qualification of Bachelor in Planning or B.Tech. (Planning) should be recognized by the Institute of Town Planners, India.
Duration
A full time 2 years course (4 semesters)