URJJA - National Level Inter College Sports Festival
Get ready to unleash the supreme potential of Sports! In a first-of-its-kind event, Gateway Education is going to be a proud host of URJJA. A National Level Intercollege sports festival, the event will see the participation of students from all over North India.
Scheduled on 11th February 2019, it will aim to boost and reward the confidence of young students, and display healthy sportsmanship and athletic spirit.
Fee Details
| S.No. | Event Name | Participation Fee |
| --- | --- | --- |
| 1 | Individual Sport like 100m,200m,400m,Yoga Marathon, Table Tennis | Rs.100 |
| 2 | Relay Race | Rs.500 |
| 3 | Team Sport like Volleyball,Basketball,Tug of War | Rs.1000 |
Register Now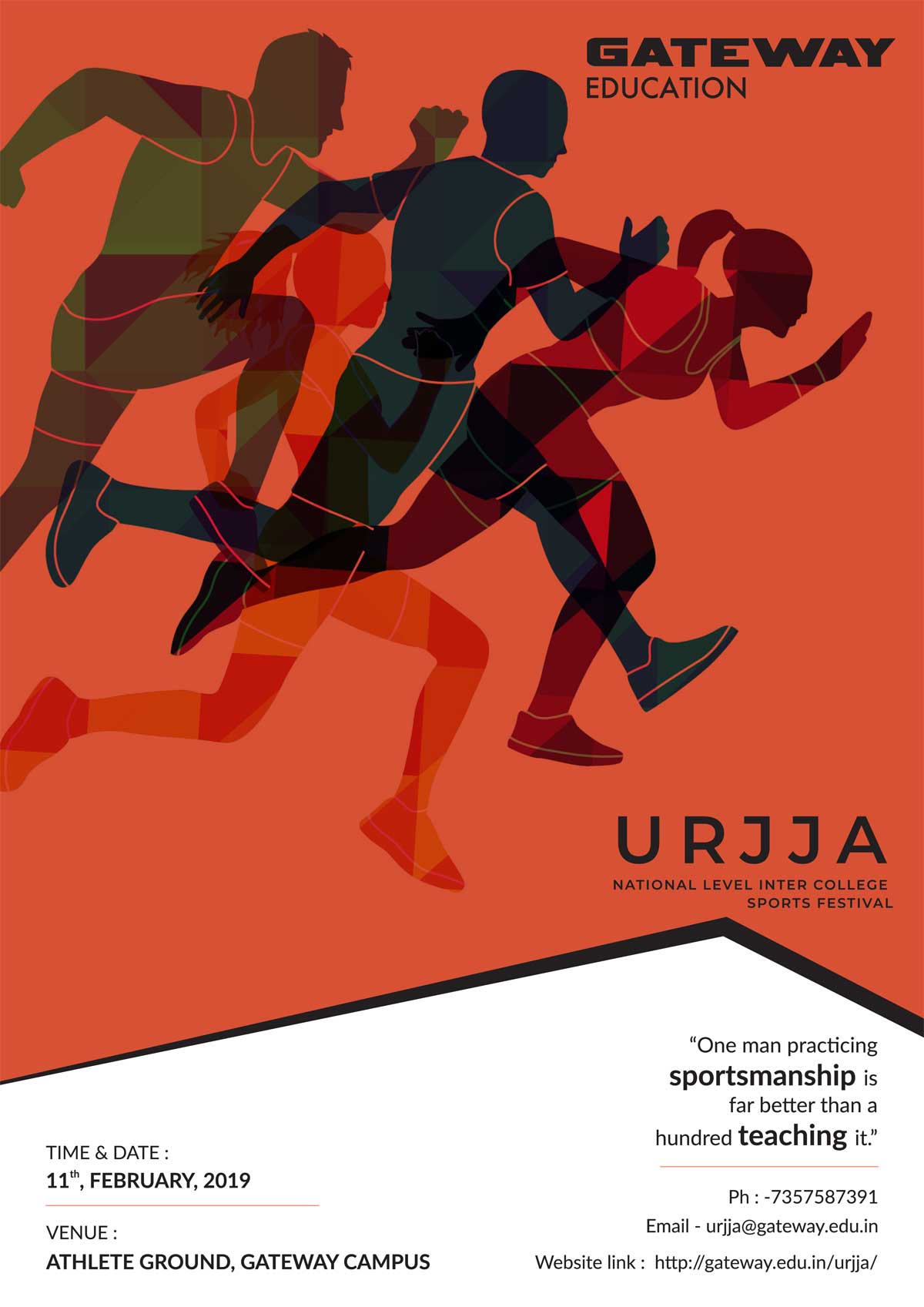 Schedule
11th February, Monday
Sports Ground 1
Sports Ground 2
Sports Ground 3
Sports Ground 4
Activity
Start
End
Venue
Activity
Start
End
Venue
Activity
Start
End
Venue
Activity
Start
End
Venue
Yoga Marathon
6:00 AM
8:30 AM
Hockey Ground
Registration
8:30 AM
Gate no-4
Inauguration
09:00AM
9:45 AM
GIS Sports Ground
100mtr
10:00 AM
11:30 AM
GIS Sports Ground
BASKET BALL
10:00 AM
1:00PM
BEHIND SHIVALIK HOSTEL
TABLE TENNIS
10:00 AM
1:00PM
SHIVALIK HOSTEL 3RD FLOOR
VOLLEY BALL
10:00 AM
1:00PM
VOLLEY BALL COURT
200mtr
11:30 AM
01:00PM
GIS Sports Ground
LUNCH TIME(1:00PM-2:00PM)
400mtr
2:00 PM
3:00 PM
GIS Sports Ground
BASKET BALL
2:00PM
5:00PM
BEHIND SHIVALIK HOSTEL
TABLE TENNIS
2:00 PM
4:00PM
SHIVALIK HOSTEL 3RD FLOOR
VOLLEY BALL
1:00 PM
4:00PM
VOLLEY BALL COURT
4*100 mtr RELAY RACE
3:00 PM
4:00 PM
GIS Sports Ground
Tug of War
4:00 PM
5:00 PM
Football Ground
Medal Distribution
5:00PM
6:00 PM
GIS Sports Ground