SWAYAM
Study Webs of Active–Learning for Young Aspiring Minds
SWAYAM (Study Webs of Active–Learning for Young Aspiring Minds) is a programme initiated by the Government of India to bridge the digital divide for students. All the courses are interactive, prepared in the best way and are available free of cost to any learner.
The courses hosted on SWAYAM are in 4 quadrants –
Video lecture
Specially prepared reading material that can be downloaded/printed
Self-assessment tests through tests and quizzes
An online discussion forum for clearing the doubts.
It is a matter of great joy that Gateway Institute of Engineering & Technology is now a part of SWAYAM and the students can enroll themselves in the courses available on the SWAYAM portal.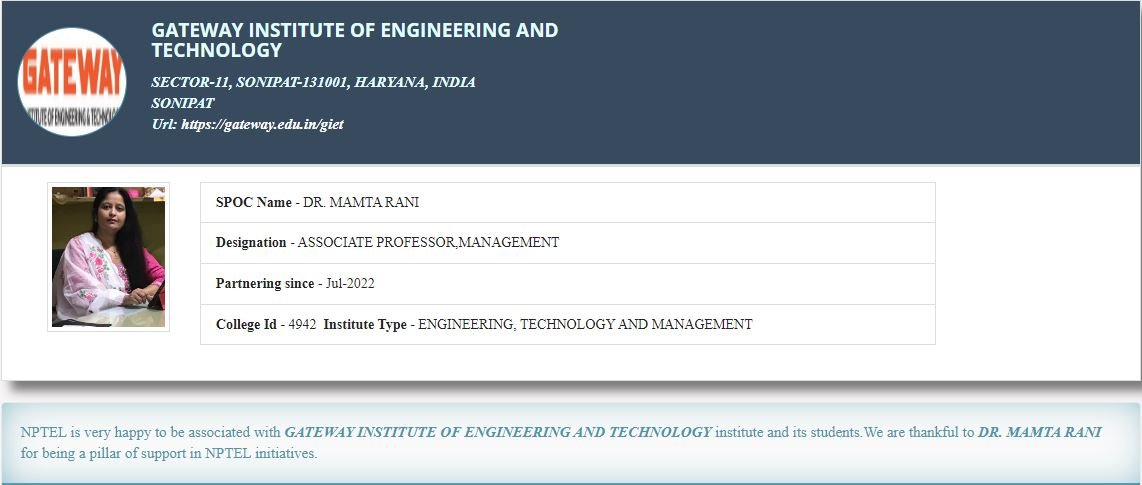 Importance of Swayam Courses
All the courses are available free of cost and can be done side by side with main course.
Swayam is a government organization and IIT faculties are the resource persons.
Course certificate is valuable in industry and it will definitely help candidates in getting a good job.
There is a wide range of courses and candidates can choose the course as per their requirement.
Guidelines for Students to Enroll
In order to take its advantage, kindly follow the following steps:
Step 1 :- Go to the website https://swayam.gov.in/NPTEL or click on the Button provided Below.
Step 2 :- Click on the Sign-in/ Register button. Register yourself if you are not registered earlier.
Step 3 :- After Sign-in, a new page will open showing your email id at top right. Click on the "All courses" tab on the right top of the page.
Step 4 :- A list of courses will open showing upcoming and ongoing courses. Select a course of your choice for which enrollments are open.
Step 5 :- A new page showing the description of the course will open. Click the join button shown below the course name.
Step 6 :- Now, a form for collecting your information will open. Fill your personal details like name, mobile no, etc in the specified fields.
Step 7 :- When asked, "are you a part of Swayam Local Chapter", select Yes. Fill local chapter state as Haryana and select College name as Gateway Institute of Engineering and Technology from the drop down.
Step 8 :- Click the save button. Now you are now registered for the course and you will also receive a confirmation over your mail regarding enrollment.